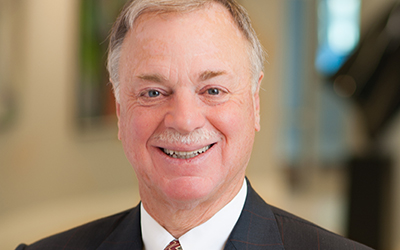 Written by Don M. Casto, III
CASTO, founded in the 1920s as a single-family developer, was for many years run as a small, family-owned, hierarchically managed company. In the 1950s and 60s, while it was a pioneer in the creation and development of shopping centers, it was essentially a low growth single product type real estate services firm. In the late 1980s Frank Benson III and I, grandsons of the founder, reached the conclusion that as a family business CASTO was limited in its access to both financial and human capital, which sparked the bold strategic decision to recast ownership and management to allow for growth.
Our goal was to create an organization with the foundation and values of a family-owned company but with a diversity of skills and leadership which had not previously existed. We were very successful and lucky to have created a partnership of seven individuals, each with different skill sets and ranges of experience. That foundation led to steady, continued growth – many millions of square feet of retail and mixed-use and more than 10,000 multifamily units. That was the first transformation to the organization, and it produced decades of growth. More than thirty years later the original partners remain together and active in the management of CASTO.
However, biology and actuarial reality are factors that leaders of any business shouldn't ignore, including CASTO. We began focusing many years ago on succession and have positioned the organization well with strong management that will allow continued growth.
All original partners focused on bringing the next generation of leaders, all with whom we had worked with and respected for many years, with experience in various product types. We then transitioned CASTO's day-to-day operating responsibilities to this group.  Every company today must focus on the right succession plan and strategy early and ongoing. It is a delicate and not always easy balance which takes years of planning.  As the new generation of leadership steps up, the current management remains present and active but loosening the reigns and allow the next generation to lead.  We have been lucky to have a great next generation, or should I say current, generation group who now have lead roles in the majority of our business units and executive committee with the original partnership group maintaining ongoing roles in a board of director capacity. We, as a whole management team, are focused on assuring that CASTO has many more years of success. Who are some of the next generation of leaders for CASTO?
This group of leaders have an average tenure of 15 years with CASTO and over 180 years of combined real estate experience.
Brent Sobczak and Kolby Turnock now have lead responsibility for multifamily development in Columbus, Cincinnati and Cleveland with nine projects comprising over 3,000 units currently under active development. Together they have also led CASTO's entry into a complex historic rehabilitation and conversion product type. Recently completed historic projects include redevelopment of the Julian Shoe Factory in downtown Columbus, the Baldwin Piano Factory in Cincinnati and the Barrett Middle School in German Village in Columbus.
Jason Freeman and Eric Leibowitz assume growing responsibility for continued retail development. Jointly they led the development of Hamilton Quarter's first phase in Columbus, Ohio, a 70-acre project that includes 225,000 square feet of retail and a 500,000 square foot medical campus.
Linda Swearingen and Nikki Fisher will continue to lead and grow the asset management, leasing and property management functions for our over two billion dollars in assets under management.
C.H. Waterman and Craig Dyer will oversee all legal and financial operations and Martin Moehring will manage CASTO's innovation and process function.
John Carr will continue to lead our affiliated Mortgage Brokerage business.
Growth will continue in the Southeast with Shannon Dixon leading efforts in Carolinas and Georgia including mixed-use projects in Raleigh, Clemson and suburban Atlanta and in Southwest Florida under the leadership of John Hutchens, Mike Chadwick and Aaron Ruben.
As we made this transition and brought other experts to the team, we expanded CASTO's real estate services to include luxury multifamily, vacation home rental, medical office and surgical centers and more. It's interesting to note that most of these individuals mentioned above are in their 40s or younger – lots of runway left for continued growth. I'm excited to witness how CASTO will continue to change and grow throughout the years with our executive leadership team. The early decision to expand the company to leadership partners outside of the family has paid off. CASTO is in an exciting position with the transition to the next generation. I can speak for the other six original partners by saying that CASTO hasn't hit its peak yet. Looking to the 21st century CASTO is continuously growing, improving and exceeding expectations.
Contact CASTO
Thank you for considering CASTO for all of your residential and commercial real estate needs. Please fill out the contact form and a CASTO team member will respond to you as soon as possible.