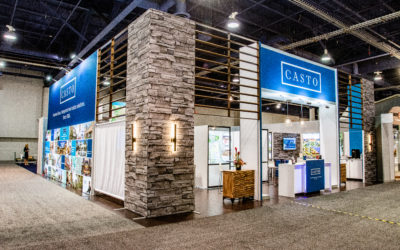 In May, CASTO associates from the development, leasing, asset management, marketing and acquisition and disposition teams headed to Las Vegas for the ICSC RECon show. The three day show was a success in our books. Many meetings were held, deals were made and we celebrated the closing of the first day of the show with our clients at our annual cocktail party!
CASTO's 40 x 40 booth was assembled by the talented group at Hamilton Quarter, River & Rich, Beaumont Villages, Hartwell Village, and Center Point. Enjoy the photos below of our 2019 booth.
CASTO is an active member of ICSC and will be at the following shows throughout the rest of 2019:
Ohio / West Virginia / Western Pennsylvania / Indiana IDEX
August 13 – 14 | Hilton Easton | Columbus, OH
Florida Conference & Deal Making
August 25 – 27 | Orange County Convention Center | Orlando, FL
Southeast Conference & Deal Making
November 14 – 15 |Georgia World Congress Center | Atlanta, GA
New York Deal Making
December 10 – 12 | Javits Center | New York City, NY
Is there someone from CASTO that you'd like to meet with at one of these shows? Click here to schedule a meeting with them!
Contact CASTO
Thank you for considering CASTO for all of your residential and commercial real estate needs. Please fill out the contact form and a CASTO team member will respond to you as soon as possible.