Northside Hospital to Anchor Phase II at The Grove at Towne Center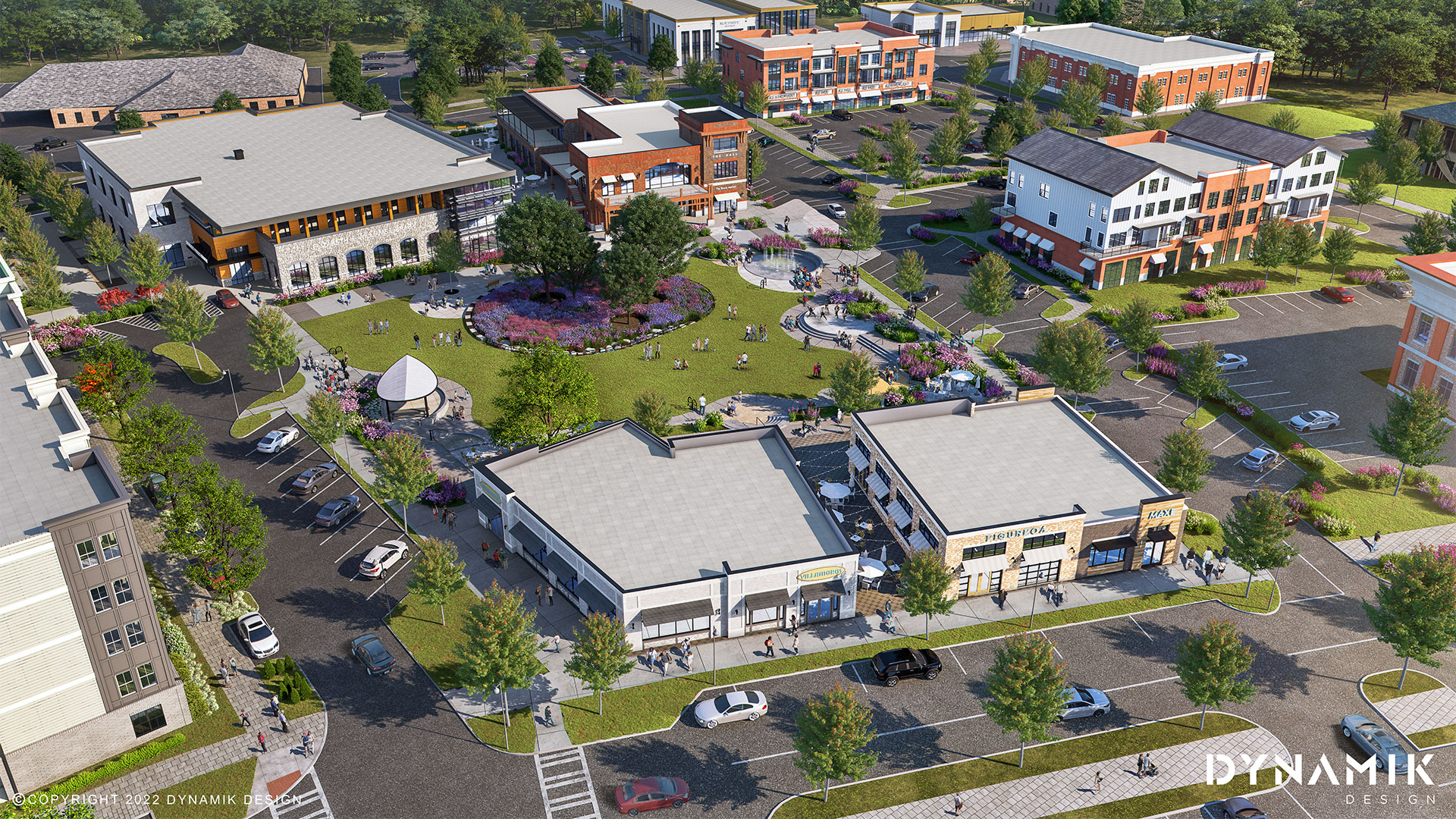 Snellville, GA – As construction and excitement continue to grow about The Grove at Towne Center, Development Partners CASTO and MidCity Real Estate Partners, along with the City of Snellville and the Downtown Development Authority, are excited to announce the addition of Northside Hospital to The Grove. In a transaction that closed at the end of May, Northside Hospital will occupy two buildings in Phase II of Snellville's new City Center.
The Northside Hospital buildings will include physician offices, an ambulatory surgery center, urgent care and other Northside outpatient services that will cater to the residents of Snellville as well as The Groves growing community. Construction of the Northside buildings is anticipated to start immediately and open in the 2nd Quarter 2023. Phase I of the $100 million Project commenced construction in March 2021, and residential units will begin leasing later this year.
Kirk Demetrops, partner, and founder of MidCity Real Estate spoke about the new partnership, "We always wanted Phase II to further strengthen the unique mix that makes a town center so special, Northside is the perfect fit. The Grove soon will have nine buildings under construction, delivering a city center long sought after by the City and Community."
"Northside Hospital is committed to strengthening health care resources in the Gwinnett region," said Debbie Mitcham, president and CEO of Northside Hospital in Gwinnett and Duluth. "We look forward to this new partnership, which will continue Northside's high quality of care for our patients in their own community."
"Northside has an outstanding reputation for the care and treatment of their patients, and we are delighted to add them to The Grove at Towne Center where they will help serve the members of our community for years to come," said Snellville Mayor Barbara Bender.
Once completed The Grove at Towne Center, will include over 275 luxury residential units, 50,000 SF of retail space (including a special use Market Building), 50,000 SF of medical office, the new Gwinnett County Elizabeth H. Williams Library with 2nd floor coworking space and a 750 parking-space parking deck, all surrounding The Grove, a one-acre town green space.
For more information and updates on the Grove at Towne Center project visit https://www.snellville.org/grove-towne-center
About CASTO
CASTO, a fully integrated real estate organization since 1926, is a recognized leader in the ownership, management, acquisition and development of multifamily residences, mix-use properties, commercial shopping centers and office buildings. CASTO's growing portfolio currently includes more than 26 million square feet of commercial property and more than 5,000 residential units located throughout the midwestern and southeastern United States. CASTO is headquartered in Columbus, Ohio, and serves a variety of clients from five offices in Florida, North Carolina, and Ohio. To learn more about CASTO, visit www.castoinfo.com.
About MidCity Real Estate Partners
Founded in 2009, Atlanta based MidCity Real Estate Partners acquires, repositions, and develops office, retail, and mixed-use properties. MidCity is known in the Atlanta market for several corporate headquarters and master developer of Alpharetta City Center, a public-private town center and award winner of ULI's Excellence of Town Center Development, ULI's People's Choice of Public Realm and Atlanta Regional Commissions Development of Excellence. Through MidCity Realty Corporation, an affiliate real estate brokerage company, MidCity offers a full range of advisory services. MidCity is the successor company to The Griffin Company, a 35-year-old full service commercial real estate development and construction company headquartered in Atlanta, GA. To learn more about MidCity, visit www.midcitypartners.com.
About Snellville
Snellville's convenient Gwinnett County location, approximately 18 miles east of Atlanta and 45 miles west of Athens, has allowed it to prosper as a hub of commerce and retail in Northeast Georgia. Snellville's roots extend to 19th century London when two friends traveled to America and later started Snellville's rich history of commerce with stores of their own. Snellville is home to the award-winning Snellville Farmers' Market, a world class Veterans Memorial and one of the most decorated police departments in the state. Snellville is known for its dedicated volunteers and its celebrated diversity.
About Northside
The Northside Hospital health care system is one of Georgia's leading health care providers with five acute-care hospitals in Atlanta, Canton, Cumming, Duluth and Lawrenceville and more than 250 outpatient locations across the state. Northside Hospital leads the U.S. in newborn deliveries and is among the state's top providers of cancer care, sports medicine, cardiovascular and surgical services. For more information, visit: northside.com.
Contact CASTO
Thank you for considering CASTO for all of your residential and commercial real estate needs. Please fill out the contact form and a CASTO team member will respond to you as soon as possible.