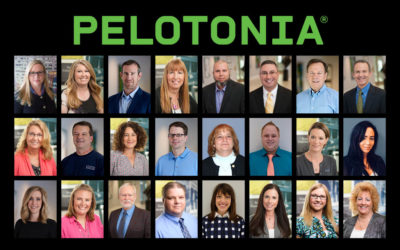 Founded in Columbus, Ohio in 2008, Pelotonia started as a grassroots bike tour which, in just 9 years, has raised over 157 million dollars for cancer research. 2018 marks the fourth year CASTO has participated in Pelotonia. The CASTO team consists of 28 members made up of 10 riders, nine virtual riders, and nine volunteers. Together our team will go the distance and do our part to end cancer.
The Community Impact Committee (CIC) at CASTO plays a heavy part in the CASTO Pelotonia team. CIC plans and hosts weekly fundraising events for the CASTO team to raise money towards one goal, to end cancer. CASTO's corporate office events for fundraising efforts include jeans day, donut and bake sales, Taco Tuesday, donations for desserts at lunchtime cookouts, raffles and happy hours. With the efforts and donations from CIC and CASTO's employees, over $1,300 has already been raised for the 2018 Pelotonia.
CASTO recognizes our Pelotonia team members in our "Why We Ride" campaign. Here are a few of their stories.
Riders
"I ride so my family and friends will not have to deal with cancer in the future and to honor those we have lost."
– Jacob Garrett, Senior Systems Engineer, IT
"August 20, 2008 liver cancer took my mother. Cancer has struck others in my immediate family and extended family, too. In honor of my mother's memory, I am committing to ride and raise funds to help continue the battle with this disease that affects so many."
– Mitchell Gruesen, Manager, Tenant Coordination/Project Manager, Construction Division
Virtual Riders
"I started as a Virtual Rider in 2018 in honor of my niece who lost her 10-year battle with breast cancer a year ago in March. But since then, my oldest Son has been diagnosed with Stage 4 Lung Cancer. So, I want more than ever to have a cure for cancer found soon."
– Debbie Zink, VP Credit & Collections, Collections
Thank you to all our riders, virtual riders and volunteers!
Jack Beaumier, Stephanie Beaumier, Justin Bird, Jacob Garrett, Willie Groves, Mitchell Gruesen, Bob Huffman, Andrew Humbert, Bill Riat, Tamara O'Brien, Debbie Zink, Jean Bethel, Lindsey Pavlik, Tim Mobley, Teresa Maynard, Brittney Olvera, Amy Schultz, Tony Riffe, Sheila Hutchins, Barb Boyd, Jon Granson, Sophia Jarvis, Amanda Zink, David Kossick, Kaira Ratcliff and Jodi Sine.
Contact CASTO
Thank you for considering CASTO for all of your residential and commercial real estate needs. Please fill out the contact form and a CASTO team member will respond to you as soon as possible.