Tips & Tricks to Searching for an Apartment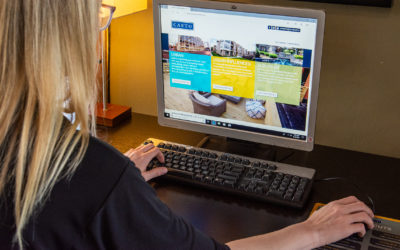 Are you ready to start your apartment search? Whether this is your first or tenth apartment, the search can be overwhelming! However, research and planning will help you save time and money. Here's our top five tips and tricks to help in your apartment search.
Set your budget
Setting your budget should be the first thing you do! There are many benefits to having your budget set, but the biggest one is that it will help narrow your list of apartments to ones that fit your price range. No idea where to begin with your budget? Check out RentLingo's rent affordability calculator to help begin your budget process. After you get your initial number make sure you add in expenses such as utilities, parking fees, internet, pet fees and rental insurance in your calculations. According to Study in US you will also want to calculate groceries, gas costs and clothing into your monthly budget.
Know your "must-haves"
Before you begin searching make a list of what you can't live without. Whether it is living downtown Columbus, Dublin, Gahanna or within a certain commute time from work knowing your "must-haves" are very important in honing your list of potential apartments. Maybe you need an in-suite washer/dryer, a pet-friendly apartment, on-site fitness center or outdoor space. Know what is important and what you are willing to budge on. Is having a pool and a dog park on your must-have list? Then check out our newest CASTO Community HQ Flats Apartments in Westerville, Ohio.
Use your network
Let friends and co-workers know you are looking because friends make the best neighbors! Your network may have insight about certain parts of town or previous communities they have lived at. Plus, many apartment communities offer current residents referral bonuses. Your friends will thank you for the extra cash!
Do your research
When you find a community that interests you research it first! View the location on a map, read reviews, check out their website and social media pages. Then call the community first to see if their availability fits your ideal move-in timeframe. If it does, schedule an appointment to tour the property. According to apartmentguide.com, scheduling an appointment shows you are organized and allows the leasing staff to set aside time to give you the best tour possible. You may also want to visit the neighborhood at various times of the day, night and weekend to get a better feel for the community and surrounding areas.
Be Prepared
Prior to arriving for your tour, be sure to have your photo ID with you as many apartment communities require one to take a tour. During property tours leasing agents point out features that are unique to the property, but they might not hit the specific topics that you would like to learn about. Having a list of questions prepared will help you and the agent in the tour. Some questions you might want to ask are:
How do I pay rent?
What are your renter's insurance requirements?
Are any utilities included and how do I pay them?
What is the parking situation?
What is the guest policy?
What is the pet policy?
When you find the perfect place, you want to be ready! Available apartments can get rented quickly and you don't want to miss out! Have a copy of your most recent paystubs, contact information from previous landlords and payment for application fees and security deposits. Being prepared will help the application process go smoothly.
If you are looking for an apartment in Columbus, Cincinnati or Cleveland, CASTO Communities might be the perfect fit for you! With multiple locations and layouts to suit your lifestyle, you are certain to find the community for you. Looking for an apartment in Dublin, Ohio? Take your pick because we have four! Interested in a luxury apartment downtown Columbus? Sounds like you would love The Julian!
CASTO Communities strives to give our residents the best living experience possible! With our commitment to providing unmatched services and exceptional amenities, you'll find that our attention to detail results in the highest quality living and satisfaction to our residents.
Contact CASTO
Thank you for considering CASTO for all of your residential and commercial real estate needs. Please fill out the contact form and a CASTO team member will respond to you as soon as possible.