A First Look at Public Art for The Grove at Towne Center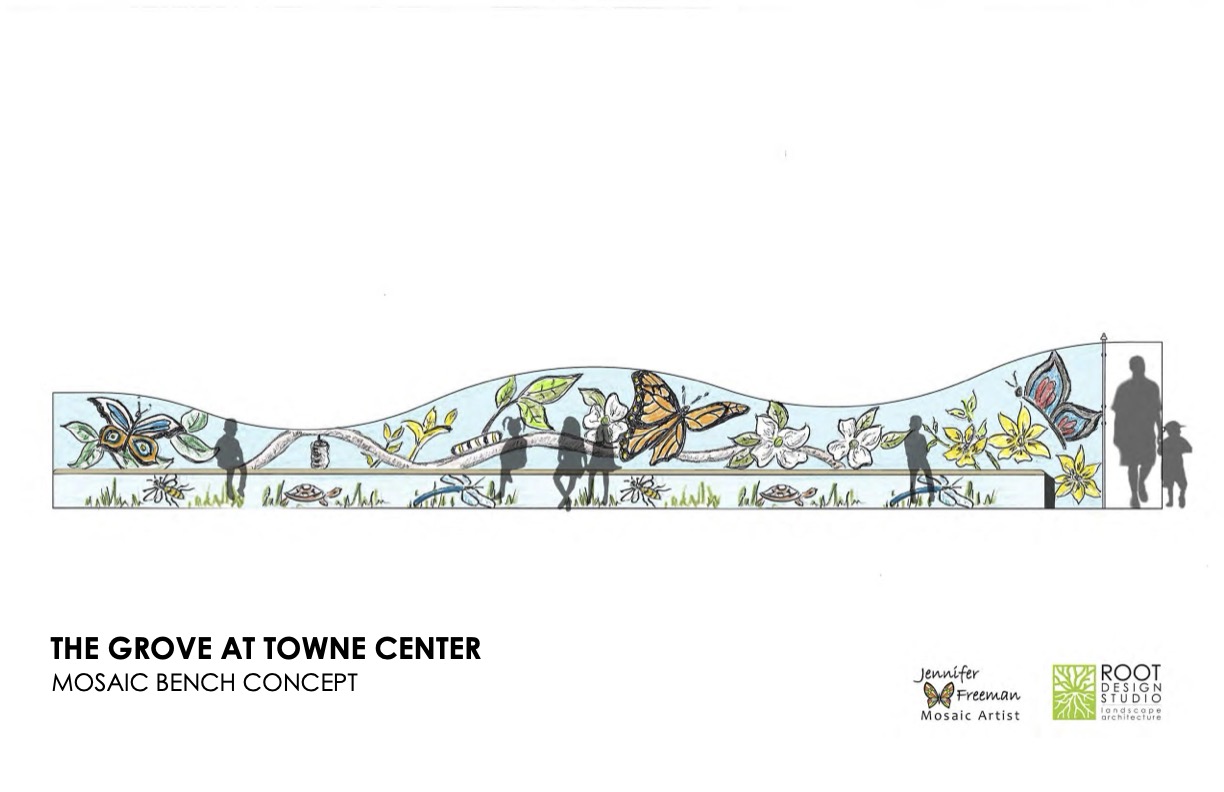 Snellville, GA – The City of Snellville and development partners CASTO and MidCity Real Estate have unveiled the first glimpse of The Grove's commitment to public art in the form of a massive mosaic-covered bench to border the planned kid-friendly splash pad. The forty-three-foot bench will feature a 200 sq. ft. mosaic mural by Jennifer Freeman, an artist whose work has been featured in many Gwinnett cities.
Envisioned as a place where commerce and community meet in the heart of Snellville, this designed downtown is attracting businesses and residents with the promise of providing a place for productivity and creativity to flourish. Beautiful green spaces with stunning public art are a large part of what makes such an atmosphere flourish.
"Mayor and Council were unanimous in our appreciation of the mural that will be a staple of The Grove at Towne Center's landscape," said Mayor Barbara Bender. "This mural will offer a taste of nature in the middle of what promises to be a vibrant and celebrated destination in our city for decades to come."
Jennifer Freeman, a native of Chicago and Northwestern alum, is the artist tapped to bring this creation to life and put her stamp on the visual landscape of the unique community crossroads that is The Grove at Towne Center. After working in finance and owning her own travel agency, Freeman went on to follow her artistic passions – studying mosaic techniques in Mexico and Ravenna and Venice, Italy. She has created works for Duluth City Hall, Norcross' Thrasher Park and Johns Creek Fitness Trail but the Snellville nature-themed mosaic will be her largest work to date.
"The sheer size is a challenge," Freeman explains. "I am creating the mosaic in my studio, on fiberglass mesh which will be installed on the actual bench later. The mosaic consists of thousands of pieces of tile and glass called tesserae and will take months to complete. There is also the challenge of transporting and installing the work on the completed bench."
The mosaic has a nature theme that will encompass the entire front of the massive park bench and incorporates colorful images found in nature like flowers, butterflies, birds, bees, insects, turtles and more. The inclusion of a caterpillar, cocoon and butterflies is reminiscent of the transforming community atmosphere represented by the development of The Grove.
"I love what the City of Snellville is doing with The Grove," Freeman said of the new development. "I was raised in the Midwest, where every town had an actual town center. I have loved watching the various cities throughout Georgia – like Norcross, Duluth, Alpharetta, etc.- develop city centers for the enjoyment of their residents."
In recent years, Jennifer Freeman has developed a love for creating public works. "I like creating public art for a variety of reasons," says Freeman. "I like the fact that a large number of people will engage with the work. The public is not typically as familiar with mosaics as other art forms. I enjoy the notion that people will approach a mosaic and often be surprised at the fact that they are actually seeing something made of thousands of pieces. Public works are generally of a larger scale than fine art or private collections. For me this typically means that, in addition to the mosaic itself, there are technical challenges which must be considered, solved, and overcome.  This adds an additional dimension to the projects which I find challenging and satisfying."
Comprising 18 total acres, the completed The Grove at Towne Center will include over 275 luxury residential units, 50,000 sq. ft. of retail space (including a special use Market Building), 50,000 sq. ft. of medical offices, the new Gwinnett County Elizabeth H. Williams Library (with 2nd floor coworking space), and a 750-space parking deck – all surrounding a one-acre green space that houses the mosaic and splash pad.
About CASTO
CASTO, a fully integrated real estate organization since 1926, is a recognized leader in the ownership, management, acquisition and development of multifamily residences, mix-use properties, commercial shopping centers and office buildings. CASTO's growing portfolio currently includes more than 26 million square feet of commercial property and more than 5,000 residential units located throughout the midwestern and southeastern United States. CASTO is headquartered in Columbus, Ohio, and serves a variety of clients from five offices in Florida, North Carolina, and Ohio. To learn more about CASTO, visit www.castoinfo.com.
About MidCity Real Estate Partners
Founded in 2009, Atlanta based MidCity Real Estate Partners acquires, repositions, and develops office, retail, and mixed-use properties. MidCity is known in the Atlanta market for several corporate headquarters and master developer of Alpharetta City Center, a public-private town center and award winner of ULI's Excellence of Town Center Development, ULI's People's Choice of Public Realm and Atlanta Regional Commissions Development of Excellence. Through MidCity Realty Corporation, an affiliate real estate brokerage company, MidCity offers a full range of advisory services. MidCity is the successor company to The Griffin Company, a 35-year-old full service commercial real estate development and construction company headquartered in Atlanta, GA. To learn more about MidCity, visit www.midcitypartners.com.
About Snellville
Snellville's convenient Gwinnett County location, approximately 18 miles east of Atlanta and 45 miles west of Athens, has allowed it to prosper as a hub of commerce and retail in Northeast Georgia. Snellville's roots extend to 19th century London when two friends traveled to America and later started Snellville's rich history of commerce with stores of their own. Snellville is home to the award-winning Snellville Farmers' Market, a world class Veterans Memorial and one of the most decorated police departments in the state. Snellville is known for its dedicated volunteers and its celebrated diversity.
Contact CASTO
Thank you for considering CASTO for all of your residential and commercial real estate needs. Please fill out the contact form and a CASTO team member will respond to you as soon as possible.