CASTO, Homeport and Huntington National Bank Partnered Together to Bring New Affordable Housing to Jefferson Township
New affordable housing project,
Killarney Woods,
 coming to Jefferson Township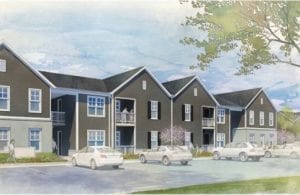 Columbus, OH — CASTO, Homeport and Huntington National Bank have partnered together to develop a 200-unit apartment community on East Broad Street in Jefferson Township. The new project, Killarney Woods, will include units that are affordable to the workforce, with 51% of units to be rented to individuals and families whose income falls in the range of 80%-100% the Area Median Income (AMI). 
 "This is a perfect example of multiple partners coming together to address affordable housing issues impacting our community. This approach can be a model for future projects," said President of CASTO Communities Brent Sobczak. 
 The Killarney Woods project is the third project that CASTO and Homeport have partnered together to bring affordable housing to Central Ohio.  
"We are pleased to once again team up with CASTO to meet the affordable housing needs of Central Ohio," said Homeport President and CEO Bruce Luecke. "Partnerships like this are needed to make a dent for the 54,000 families in Central Ohio paying 50 percent or more of their income for a roof over their head. Killarney Woods represents an innovative approach to providing a mixed-income community, much like the Graceland Flats community under construction in Clintonville, and we look forward to future opportunities."  
Huntington provided resources to fund the nearly 29-acre project. Funds were made available through Huntington's Commercial Real Estate division, along with the recently closed $100 million Housing Action Fund. This fund, managed by the Affordable Housing Trust for Columbus and Franklin County, provides a flexible source of capital to developers committed to affordable housing in a competitive market. 
"There is no better reflection of Huntington's purpose of looking out for people than investing in affordable housing and helping improve the quality of life for residents throughout Columbus," said Sue Zazon, regional president for Huntington. "We are proud to provide financing for Killarney Woods and other high-impact community development projects that help close the affordable housing gap and ensure quality housing across our city."  
Killarney Woods will include one-, two- and three-bedroom style apartments and townhomes featuring a community clubhouse and conveniently located near stores and restaurants. Project construction is anticipated to start in the winter of 2020.  
About CASTO 
CASTO, a fully integrated real estate organization since 1926, is a recognized leader in the ownership, management, acquisition and development of multifamily residences, commercial shopping centers and office buildings. CASTO's growing portfolio currently includes over 26 million square feet of commercial property and over 4,000 residential units located throughout the midwestern and southeastern United States. CASTO is headquartered in Columbus, Ohio, and serves a variety of clients from five offices in Florida, North Carolina and Ohio. To learn more about CASTO, visit castoinfo.com. 
About Homeport  
Homeport is the largest, locally focused nonprofit developer of affordable housing in Central Ohio. Its almost 6,300 residents, families and seniors in 38 communities have access to a broad range of services ranging from after school programming to emergency assistance for rent and utilities. Homeport partnerships also link its residents to food, furniture and employment assistance as well as medical and mental health services. Homeport is a leading provider of homebuyer education and budget and credit counseling for Central Ohio. To learn more about Homeport, visit www.homeportohio.org. 
                                                                                               #### 
Contact CASTO
Thank you for considering CASTO for all of your residential and commercial real estate needs. Please fill out the contact form and a CASTO team member will respond to you as soon as possible.