CASTO Named 2020 Best Employers in Ohio
CASTO is an eight-time recipient of the Best Employers in Ohio award.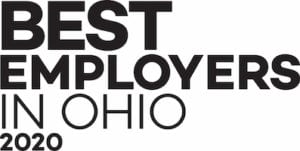 Columbus, OH — CASTO was recently named as one of the 2020 Best Employers in Ohio for the eighth time. The annual list of the Best Employers in Ohio was created by Crain's Cleveland Business and Best Companies Group.
CASTO has been recognized as one of the Best Employers in Ohio every year that the company has participated in the statewide survey and awards program — years included 2005, 2007, 2009, 2012, 2014, 2016 and 2018. The program is designed to identify, recognize and honor the best places of employment in Ohio, benefiting the state's economy, its workforce and businesses. The 2020 Best Employers in Ohio list is comprised of 42 companies.
"I'm so honored that CASTO has been recognized on the 2020 Best Employers in Ohio. I and my partners have focused on building our team with industry leaders to take CASTO to the next level," said Don M. Casto, III. "If I had to nominate the company based upon my fellow CASTO co-workers and peers, I would nominate the company as the 'Best Team'. We have a group of professionals that are collaborative, innovative and entrepreneurial in spirit and that's what makes CASTO great."
To be considered for participation, companies had to fulfill the following eligibility requirements:
Be a for-profit, not-for-profit business or government entity;
Be a publicly or privately held business;
Have a facility in the state of Ohio;
Have at least 15 employees working in Ohio; and
Must be in business a minimum of 1 year.
To be considered for Best Employers in Ohio, companies had to participate in a two-part survey process. The first part consisted of evaluating each nominated company's workplace policies, practices, philosophy, systems and demographics. This part of the process was worth approximately 25% of the total evaluation. The second part consisted of an employee survey to measure the employee experience. This part of the process was worth approximately 75% of the total evaluation. The combined scores determined the top companies and the final rankings. Best Companies Group managed the overall registration and survey process in Ohio and also analyzed the data and used their expertise to determine the final rankings.
For more information on the Best Employers in Ohio program, visit www.BestEmployersOH.com.
About CASTO
CASTO, a fully integrated real estate organization since 1926, is a recognized leader in the ownership, management, acquisition and development of multifamily residences, commercial shopping centers and office buildings. CASTO's growing portfolio currently includes over 26 million square feet of commercial property and over 4,000 residential units located throughout the midwestern and southeastern United States. CASTO is headquartered in Columbus, Ohio, and serves a variety of clients from five offices in Florida, North Carolina and Ohio. To learn more about CASTO, visit castoinfo.com.
Contact CASTO
Thank you for considering CASTO for all of your residential and commercial real estate needs. Please fill out the contact form and a CASTO team member will respond to you as soon as possible.