Graceland Flats: A Creative Solution to Housing in Columbus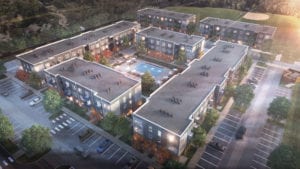 Columbus, OH — CASTO, one of the country's leading real estate organizations and its nonprofit partner, Homeport, announced plans for the start of construction on a new privately-funded workforce housing community in the highly desirable and historic neighborhood of Clintonville.  
Graceland Flats, a 180-unit apartment community, will be a creative solution to provide workforce housing in Columbus. This project will be delivering units that are affordable to the workforce, with 50% of units to be rented to those individuals and families whose income falls in the range of 80%-100% the Area Median Income (AMI).  
 "We believe Graceland Flats will help address Columbus's need for workforce housing in a unique and innovative structure.  This financing model has the potential to be replicated across the Columbus market." said Brent Sobczak, President of CASTO Communities.   
 "Homeport is pleased to partner with CASTO in addressing the affordable workforce housing shortfall facing Central Ohio," said Homeport President & CEO Bruce Luecke. "Graceland Flats is a novel approach to providing a mixed-income community. For the area's future economic vitality, we must think outside the box when it comes to funding and the community's workforce housing needs." 
This project is supported by financing by the Federal Housing Administration's construction loan program and the Affordable Housing Trust for Columbus and Franklin County.  
 "The Affordable Housing Trust is pleased to partner with CASTO and Homeport, two highly respected developers, to address the affordable housing shortage in our community," said Robert Weiler, chair of the Affordable Housing Trust Board of Directors. "Columbus and Franklin County support mixed-income developments like Graceland Flats to enable working individuals to share in our region's economic success and to improve workforce stability for employers."  
Located within the Graceland Shopping Center, this property will offer one and two-bedroom style apartments and will include a resort-style pool, outdoor fireplace, bike storage, and conveniently located near shopping and entertainment.  
About CASTO 
CASTO, a fully integrated real estate organization since 1926, is a recognized leader in the ownership, management, acquisition and development of multi-family residences, commercial shopping centers and office buildings.  CASTO's growing portfolio currently includes over 26 million square feet of commercial property and over 4,000 residential units located throughout the midwestern and southeastern United States.  CASTO is headquartered in Columbus, Ohio and serves a variety of clients from five offices in Florida, North Carolina and Ohio. To learn more about CASTO, visit www.castoinfo.com. 
About Homeport 
Homeport is the largest, locally-focused nonprofit developer of affordable housing in Central Ohio. Its 6,276 residents, families and seniors in 36 communities have access to a broad range of services ranging from after school programming to emergency assistance for rent and utilities. Homeport partnerships also link its residents to food, furniture and employment assistance as well as medical and mental health services. Homeport is a leading provider of homebuyer education and budget and credit counseling for Central Ohio. To learn more about Homeport, visit www.homeportohio.org. 
Contact CASTO
Thank you for considering CASTO for all of your residential and commercial real estate needs. Please fill out the contact form and a CASTO team member will respond to you as soon as possible.