Hamilton Quarter Retail Construction Is Underway With Exciting New Tenants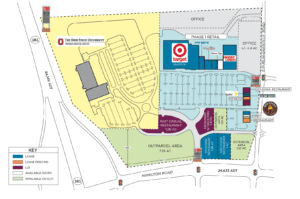 Development Contact:                               Leasing Contact:
Jason Freeman                                            John Miller
614.744.2024                                               614.402.2871
[email protected]                           [email protected]
HAMILTON QUARTER RETAIL CONSTRUCTION IS UNDERWAY WITH EXCITING NEW TENANTS
Columbus, OH — Construction is well underway for a fall 2019 opening of the first retail phase of Hamilton Quarter, which includes a 250,000-square foot shopping center anchored by Target and Hobby Lobby (see attached construction progress images). The 125,000-square foot Target Next Generation store and the 55,000-square foot Hobby Lobby will open in October 2019, accompanied by an exciting mix of national, regional and local retailers.  Shoppers visiting Hamilton Quarter from Columbus, New Albany, Gahanna and other nearby communities can also look forward to visiting committed tenants such as Five Below, Aqua Tots Swim School, Beerhead Bar & Eatery, The Nail Boutique, Clean Juice, Sprint and Great Clips.
The 40-acre retail component is immediately adjacent to The Ohio State University Wexner Medical Center's 31-acre planned medical campus, which is anticipated to total 400,000 – 500,000 square feet when complete.
CASTO expects the strong pace of retail lease-up to continue as construction wraps up in the next few months.  With approximately 90% of the inline retail space spoken for, less than 20,000 square feet of inline space is available.  There are still a number of highly visible outparcel opportunities available on Hamilton Road.  Additional tenant announcements, for both the remaining inline retail space and outparcel sites, will be forthcoming over the summer as more leases are finalized.
For more information on phase one development and future phase opportunities at Hamilton Quarter, please contact Jason Freeman, CASTO vice president of development and finance, at [email protected].  
ABOUT HAMILTON QUARTER
Hamilton Quarter is a new, 200-acre, mixed-use development located at the SR-161/Hamilton Road interchange and relocated Hamilton Road. Hamilton Quarter is located minutes from the growing New Albany Business Park, with a daytime employee population of nearly 15,000, including Abercrombie & Fitch, Discover Financial Services, Bob Evans, Amazon, Facebook and other major employers. The property is situated within the 200-acre mixed-use project planned for 600,000 s.f. of office, hotel, and 1,000,000 s.f. of retail, restaurant and entertainment space. Learn more at https://www.hamiltonquarter.net/.
ABOUT CASTO
CASTO, a fully integrated real estate organization since 1926, is a recognized leader in the ownership, management, acquisition and development of multi-family residences, commercial shopping centers and office buildings.  CASTO's growing portfolio currently includes over 26 million square feet of commercial property and over 4,000 residential units located throughout the midwestern and southeastern United States.  CASTO is headquartered in Columbus, Ohio and serves a variety of clients from five offices in Florida, North Carolina and Ohio. To learn more about CASTO, visit www.castoinfo.com.
###
Photos by CASTO
Contact CASTO
Thank you for considering CASTO for all of your residential and commercial real estate needs. Please fill out the contact form and a CASTO team member will respond to you as soon as possible.