REWILD Yoga joins The View on Fifth in Grandview Heights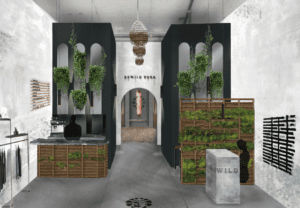 Columbus, OH — CASTO, a leading Columbus-based commercial real estate company, is pleased to announce REWILD Yoga will open its first studio at The View on Fifth located on W. Fifth Avenue in Grandview Heights. The View on Fifth developed by Solove Real Estate and Celmark Development and leased by CASTO opened in 2013 with 285 residential units and 25,000 square feet of retail space.
"We could not be more excited to have REWILD Yoga join the existing retail tenants on Fifth Avenue. This corridor has proven to be successful for fitness, and to have local organizations like REWILD contribute to the area only strengthens the Grandview trade market," said Sydney Federer, senior leasing director and principal broker for CASTO, who represented the developer in the leasing of the project.
REWILD Yoga's nearly 1,600 square foot studio, located adjacent to Salon Lofts and Waxxpot, will feature hundred-year-old reclaimed barn wood beams with foliage draped at the entrance creating a visual juxtaposition between plasters, concrete, wood and foliage. The studio's interior is designed to reflect REWILD Yoga's mission of embracing life and fostering meaningful relationships.
The concept of REWILD Yoga began after Steve Kocsis, owner of REWILD Yoga, moved to Columbus from Cleveland. In search of a studio and teachers in a new city, Kocsis had trouble finding a new studio in which he felt connected.
"I began getting really curious about the idea of opening my own studio. On top of that I noticed this thriving, growth-minded, vibrant community in Columbus so the wheels in my head began spinning. I decided I would take the first step in my pursuit to open a new type of yoga studio," said Kocsis.
After searching for a location for two years, Kocsis found what he was looking for at The View on Fifth.
"There's a synergy in this retail plaza that appeals to people. It has a certain type of excitement to it.  We're grateful to be a part of the project and think we will complement the neighboring businesses and they complement us," said Kocsis.
With the REWILD Yoga joining the other retailers at The View on Fifth, the retail project is now fully leased. REWILD Yoga anticipates opening in the fall.
About CASTO
CASTO, a fully integrated real estate organization since 1926, is a recognized leader in the ownership, management, acquisition and development of multifamily residences, commercial shopping centers and office buildings. CASTO's growing portfolio currently includes over 26 million square feet of commercial property and over 4,000 residential units located throughout the midwestern and southeastern United States. CASTO is headquartered in Columbus, Ohio, and serves a variety of clients from five offices in Florida, North Carolina and Ohio. To learn more about CASTO, visit www.castoinfo.com.
About REWILD Yoga
REWILD Yoga's mission is to be curious, intentional and real to create an experience that contributes to aliveness and fosters meaningful relationships. REWILD Yoga partnered with designer Nicholas Evans to bring its concept to life. To learn more about REWILD Yoga, visit www.rewild-yoga.com or follow on Instagram at rewildyoga.
About Solove Real Estate
With its high-quality developments, Jerome Solove Development Inc. creates solutions that target the specific needs of each market segment, while enhancing the surrounding areas and communities.  JSDI currently develops its properties under The View brand that sets the precedence for high standards, which often serves as a catalyst for further economic development.  The company delivers high returns for its portfolio of privately held real estate investments.
About Celmark
Celmark has a long history of constructing successful projects in Central Ohio from childcare centers, medical offices, multifamily, adaptive reuse and everything in between. Our close association with Celmark's own development arm gives us that keen understanding of an Owner's needs. We engage our team to assist the Owner from the very beginning through occupancy by offering our knowledge, expertise and coordinating skills during the design, entitlement, pricing, value engineering, permitting, construction, and move in stages of a project. You can be assured that we will do everything we can to earn your TRUST.
Contact CASTO
Thank you for considering CASTO for all of your residential and commercial real estate needs. Please fill out the contact form and a CASTO team member will respond to you as soon as possible.