River & Rich Grand Opening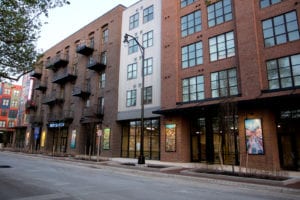 Columbus, OH — On Sunday, May 5, 2019, CASTO, along with development partners, Robert Weiler Company, Kelley Companies, Columbus Metropolitan Housing Authority and S2 Construction, will celebrate the grand opening of its newest development project, River & Rich.
This project includes 230 multifamily units, a 300-space public parking garage, and approximately 30,000 square feet of retail space. From the initial stages of the project, River & Rich was designed with local art in mind.
"Our vision for River & Rich was to be a vibrant, art-focused project. We understand the vital role the arts and artists play in the fabric of the Franklinton neighborhood and wanted to be sure our project would compliment and enhance the neighborhood's creative spirit" said Brent Sobczak, president of CASTO Communities.
With creative spirit at the forefront, ROY G BIV, a non-profit art gallery, will join River & Rich as the marquee tenant. A non-profit art gallery, formerly located in the Short North, ROY G BIV has a long-standing commitment to empowering and promoting emerging artists and their work. ROY G BIV will be the first tenant to open at River & Rich on Friday, May 3, 2019.
In addition to ROY G BIV showcasing local art, River & Rich features 18 murals that punctuate the outside façade along Rich Street including a mural designed by students at the Cristo Rey Columbus High School. River & Rich partnered with the Franklinton Arts District (FAD), utilizing FAD's ALLOY Artspace project to commission the Rich Street murals.
Identifying this project is a 24-foot tall River & Rich sign perched above the sidewalk along Rich Street was designed and custom-built by Andrew Lundberg, owner of Lundberg Industrial Arts, and includes floating metallic lettering and full-spectrum LED lights.
Located in the rear of River & Rich are three large murals created by local artists. A 17 foot by 70-foot mural created by Steve Ehret, an 8 foot by 5-foot pool entrance mural created by Jonathan Ryan, and an 8 foot by 100 foot mural for the pool deck walls created by Eric Rausch and Jennifer Kiko.
Thirteen more murals can be found inside River & Rich that was purchased at FAD's Art for Franklinton Urban Scrawl art auction. In River & Rich's lobby sits an inviting 5 foot by 10-foot-high-top table handcrafted by Chris Sherman, local artist and craftsman.
"Since day one, River & Rich's approach to creative community development has been a model of collaboration, partnership, and respect. They have demonstrated through their words and their actions that they are ready and willing to support the community of artists and arts organizations that have made Franklinton one of the most unique neighborhoods in Columbus. We are grateful to count River & Rich as a strong partner in supporting our vision for the creative and artistic future of Franklinton. We look forward to many more productive partnerships with them in the years to come," said Adam Herman, president at Franklinton Arts District.
River & Rich will be showcasing the one- and two-bedroom apartments along with the clubhouse, fitness center and amenity deck during its grand opening from 9 a.m. to 5 p.m. on Sunday, May 5, 2019, during the Columbus Underground Urban Living Tour.
To learn more about River & Rich, visit riverandrichcolumbus.com.
For a photo gallery of all of the art, visit castoinfo.com/press-room/river-and-rich-grand-opening-photos.
About CASTO
CASTO, a fully integrated real estate organization since 1926, is a recognized leader in the ownership, management, acquisition and development of multi-family residences, commercial shopping centers and office buildings.  CASTO's growing portfolio currently includes over 26 million square feet of commercial property and over 4,000 residential units located throughout the midwestern and southeastern United States.  CASTO is headquartered in Columbus, Ohio and serves a variety of clients from five offices in Florida, North Carolina and Ohio. To learn more about CASTO, visit castoinfo.com.
###
Photos By Joy Kollmer https://kollmerphoto.smugmug.com/River-and-Rich-High-Res/
Contact CASTO
Thank you for considering CASTO for all of your residential and commercial real estate needs. Please fill out the contact form and a CASTO team member will respond to you as soon as possible.