Lucky's Market Announced as Grocery Anchor in Thurber Village Redevelopment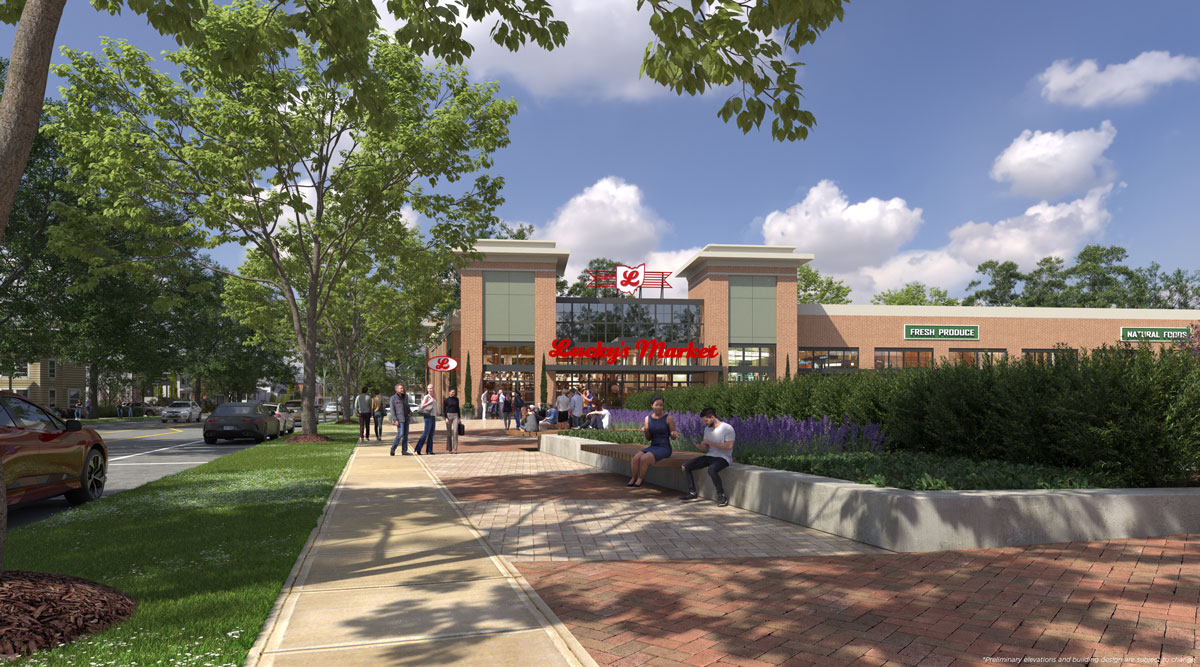 Columbus, OH —  CASTO, one of the nation's leading real estate companies, is excited to announce that Lucky's Market will be joining the highly anticipated redevelopment of Thurber Village.   
A popular neighborhood center at the corner of Neil and Buttles Avenues, Thurber Village is in the initial stages of redevelopment to transform the neighborhood center into a dynamic mixed-use project. The retail component will include a Lucky's Market, a family-owned independent grocery store that will bring a unique mix of natural foods, fruits & veggies, plus much more.  
"Lucky's Market is excited to make this announcement. We would like to thank CASTO for including Lucky's in this collaborative project," said Aaron Saltzman, Vice President of Lucky's Market. Saltzman added, "Our family has been in the grocery business in Northeast Ohio since 1930.  As Buckeye alumni and former Columbus residents, we know and love the area.  We were thrilled to begin to serve the Columbus market in 2020 with the acquisition of the Lucky's Market in Clintonville.  Now, we couldn't be happier to be a part of the redevelopment of Thurber Village and bring a brand new Lucky's Market to this growing and thriving community."
"We are thrilled to have Lucky's Market join this exciting project," said Eric Leibowitz, Vice President of Development and Leasing at CASTO. "Executing this very unique mixed-use redevelopment plan has been a years-long group effort from our commercial and residential development teams, and we are looking forward to seeing it come to life.  We've heard many requests about the desire for a grocer in this location and we are delighted to deliver this wonderful community amenity with such an experienced and successful operating partner in the Saltzman family."
Thurber Village has been owned by CASTO since 2005. For more than three years, CASTO's commercial and residential teams have been working to create the redevelopment plan for the site.  With significant input from the Harrison West Society and surrounding communities on the project dynamics, the mixed-use center will include a ± 13,000 square foot CVS at the corner of Buttles Avenue and Neil Avenue, and the ± 21,000 square foot Lucky's at the corner of Collins Avenue and Neil Avenue. The development will also include 225 apartment units with structured parking situated on the western half of the site.
Construction is expected to start this fall on the new CVS building, which is anticipated to open next summer.  The existing inline CVS store will remain open throughout construction until such time as CVS opens in the newly constructed store. 
To learn more about Thurber Village and CASTO, visit castoinfo.com.
(Enclosed preliminary elevation and building design are subject to change.)
About CASTO
CASTO, a fully integrated real estate organization since 1926, is a recognized leader in the ownership, management, acquisition and development of multifamily residences, commercial shopping centers and office buildings. CASTO's growing portfolio currently includes over 6,200 multifamily units and over 26 million square feet of commercial property located throughout the midwestern and southeastern United States. CASTO is headquartered in Columbus, Ohio and serves a variety of clients from five offices in Ohio, Florida and North Carolina. To learn more about CASTO, visit castoinfo.com.
About Lucky's Market
The Saltzmans are the long-time owners of Dave's Markets, a grocery store chain locally owned and operated in Northeast Ohio. It is a 5th generation family-owned business with 3 generations active in its business today. The Lucky's Market brand originated in 2003 in Boulder, Colorado. As of April 2020; ownership of the Ohio stores changed hands. The Saltzmans and Lucky's came together. Now here we are. The Thurber Village location will be the second Lucky's Market in the Columbus area and fourth in the state of Ohio. To learn more about Lucky's, visit luckysmarketsohio.com or follow us on Facebook @luckysmarketsohio.
Contact CASTO
Thank you for considering CASTO for all of your residential and commercial real estate needs. Please fill out the contact form and a CASTO team member will respond to you as soon as possible.