Pelatonia 2018 – Post Ride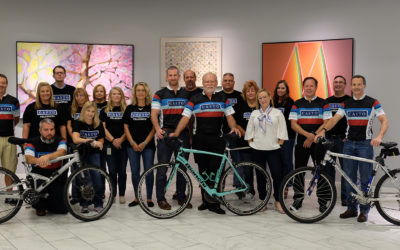 Veronica Mathias
MarCom Coordinator | Marketing
Published August 23, 2018
---
Founded in Columbus, Ohio in 2008, Pelotonia started as a grassroots bike tour which, in just 9 years, has raised over 157 million dollars for cancer research. The 2018 Pelotonia marked the fourth year CASTO has participated. The CASTO team was made up of 28 members — 10 riders, nine virtual riders, and nine volunteers.
The Community Impact Committee (CIC) at CASTO played a very impactful role in the CASTO Pelotonia team. CIC held weekly fundraising events for the CASTO team to raise money towards one goal, to end cancer. CASTO's corporate office events for fundraising efforts included jeans day, donut and bake sales, Taco Tuesday, donations for desserts at lunchtime cookouts, raffle giveaways and happy hours. With the efforts and donations from CIC and CASTO's employees, together we raised $2,362.
CASTO's team of riders spent the first weekend in August supporting the goal to end cancer. We spoke with a few of them after the race and here are some of their thoughts.
"This 2018 Pelotonia was my first time to accept the challenge. I was very impressed with the whole event and how well organized it was, which made it very easy for me to navigate the total experience. I choose to ride the Granville to New Albany route on Sunday. I chose this route to experience a bit quieter side to event and to enjoy a beautiful ride through rural Ohio. The course was well marked with every intersection patrolled by a law enforcement officer or Pelotonia volunteer. The New Albany finish was a fun surprise with a lot of cheering supporters, good food and fun entertainment. However, I was most impressed with the fundraising support I received from my family and friends. Their overwhelming support enabled me to enjoy the ride and focus on pushing myself to do my best. I want to thank my wife for being there at the start and finish line, and always supporting me in the endeavors I take on in my life. May the efforts of the many who make the Pelotonia event a great success, continue to motivate and inspire those people working to fight this disease and those that help ease the suffering of the many who are afflicted by cancer." – Mitchell Gruesen, Manager, Tenant Coordination/Project Manager, Construction Division
"Once I made the commitment to ride in my first Pelotonia, I was hooked. It's such a wonderful event, for such a tremendous cause, and it keeps getting bigger and better each year. I'm just sorry I have to wait a whole year to ride again." – Robert Huffman, IT Director
"I not sure if anyone knew, but about 2 weeks before the ride I injured my left wrist. It made it hard to open doors, do push-ups, or just lean on my hand. So, riding a bike was quite painful. With less than a week remaining, I went to the doctor and all I wanted to know was if it was safe to ride with the pain. The doctor told me I could get a note saying I can't ride. I told him that was not my goal, I said, 'I can ride with the pain, I wanted to know if I'm going to make it worse. Otherwise, I'm going to ride because I have a choice and I can take a few hours of pain because the people I'm riding for don't have a choice and are enduring much more pain.'" – Jacob Garrett, Senior Systems Engineer, IT
Together CASTO will go the distance and do our part to end cancer. We encourage you to donate and support the fight against cancer. Visit https://yourpelotonia.org/profiles/public-team-profile?UserKey=364522 to contribute to our team and our one goal.
Thank you to all our riders, virtual riders and volunteers!
Jack Beaumier, Stephanie Beaumier, Justin Bird, Jacob Garrett, Willie Groves, Mitchell Gruesen, Bob Huffman, Andrew Humbert, Bill Riat, Tamara O'Brien, Debbie Zink, Jean Bethel, Lindsey Pavlik, Tim Mobley, Teresa Maynard, Brittney Olvera, Amy Schultz, Tony Riffe, Sheila Hutchins, Barb Boyd, Jon Granson, Sophia Jarvis, Amanda Zink, David Kossick, Kaira Ratcliff and Jodi Sine
Contact CASTO
Thank you for considering CASTO for all of your residential and commercial real estate needs. Please fill out the contact form and a CASTO team member will respond to you as soon as possible.