roll: Bicycle gearing up to open its fourth location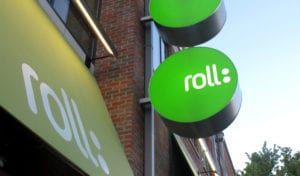 Dublin, OH — A Columbus-based, custom-designed bike business, roll: Bicycle Company, is expanding by opening a new location at Dublin Plaza, a CASTO owned and managed property, with an anticipated opening date of March 1.
"roll: Bicycle will be a great addition to Dublin Plaza and will complement our other tenants at the center extremely well. From the start, it's been a pleasure working with the leaders of roll: on this new store location," said CASTO Senior Leasing Specialist Kevin Kallstrom.
Located at the corner of Dublin-Granville Road and Frantz Road, the new 3,000-square-foot store will be the company's fourth location with additional locations in Westerville, Upper Arlington and Bexley.
"We are excited to serve the community of Dublin and surrounding areas with this expansion," said Stuart Hunter, founder and owner of roll: Bicycle Company. "This is more than just an expansion. It's an evolution of our brand. This store will be the launch of our 'Studio Concept' where we invite our customers to design their own roll: bike and be able to get a bike that is uniquely theirs. We will also continue to offer the brands we currently carry to ensure that we can serve all riders from kids and families to enthusiasts."
Since the company opened its first store in 2006, Hunter has had a vision for the company and its expansion. To prepare for future plans, Ryan Hughes joined the business as roll: Bicycle's chief operating officer in October of last year.
"Dublin has long been an attractive location for us to grow and the timing was perfect," said Hughes. "Our staff can't wait to meet our new Dublin neighbors, build relationships and help people find their perfect ride."
roll: Bicycle is committed to re-investing into the communities through several organizations including Pelotonia, Franklinton Cycle Works and Columbus Neighborhood Pride. The business's mission is to connect people and communities through riding bike and now with the new store location, Dublin is at the forefront of their minds with several events and promotions in the works.
About CASTO
CASTO, a fully integrated real estate organization since 1926, is a recognized leader in the ownership, management, acquisition and development of multifamily residences, commercial shopping centers and office buildings. CASTO's growing portfolio currently includes over 26 million square feet of commercial property and over 4,000 residential units located throughout the midwestern and southeastern United States. CASTO is headquartered in Columbus, Ohio, and serves a variety of clients from five offices in Florida, North Carolina and Ohio. To learn more about CASTO, visit castoinfo.com.
About roll: Bicycle Company
In addition to its retail shops and service centers, roll: Bicycle Company is the maker of built-to-order custom bikes in three different models – adventure, city and sport. For additional information about roll: Bicycle company, please visit – www.rollbicycles.com – Instagram – Facebook.
Contact CASTO
Thank you for considering CASTO for all of your residential and commercial real estate needs. Please fill out the contact form and a CASTO team member will respond to you as soon as possible.